Korean Beef Cheeks are ultra-tasty, nutrient dense comfort food, made easy in the Instant Pot/multicooker or pressure cooker, with suggestions for the slow cooker/crockpot and the oven. This recipe is gluten free, grain free, Paleo-friendly, AIP-friendly, nightshade free and comes with slow cooker (crockpot) and oven suggestions.
Winter started only a few short weeks ago here in Sydney, where I live, and beef cheeks haven't been easy to come by. One day I must have gone to 10 different stores to look for them, including butchers and supermarkets. I felt like a crazy person asking the butchers for them - some of them seemed to have no idea what beef cheeks are! One shop assistant even said they are very fatty, but I didn't correct her.
I was lucky enough to finally find the beef cheeks in Aldi as a "special buy" for a great price, so I stocked up. But, of course, I checked again more recently and they don't have any. It really makes you wonder what's being done with the beef cheeks - I guess they're either being exported or ground in to mince, which makes me sad to think what a waste of such a nice cut. I'm jealous of my friends in the northern hemisphere who can access beef cheeks almost year-round it would seem - here in Australia, they are considered a "winter" food only, so we have to wait all year for them, and even then they are hard to find.
❓What are beef cheeks?
Beef cheeks have become my favourite cut of meat even though I've only had them a handful of times. There's unfortunately a misconception that the cheeks are a fatty cut, but this is not so. The "fatty" texture that's in the cheeks after the fat has been trimmed is actually gelatin - the cheeks are extremely high in this beneficial substance that contains high levels of amino acids such as glycine, glutamine and proline.
Amino acids are the building blocks of protein and they have a very important role in the body, such as helping to form tissues, neurotransmitters and the collagen in our joints, skin and nails. These specific three amino acids tend to be lacking in modern diets since most people are not eating "nose to tail" as our ancestors did. It's surely a contributor to increasing rates of osteoarthritis and other chronic conditions involving degradation of connective tissue. So, the lesson here is - eat the whole animal so none of it goes to waste and keep your body in tip top shape at the same time. If we eat muscle meats like steak without a second thought, why not eat the cheeks? They are both just different forms of flesh after all.
Beef cheeks take quite a bit of time to cook, so you need to keep that in mind. The Instant Pot or pressure cooker are the perfect way to cook beef cheeks as you can cook them so much more quickly than in the slow cooker/crockpot or the oven. At the end of this post, I have given some suggestions for cooking using those methods in case you don't own an Instant Pot/multicooker or stovetop pressure cooker.
I have two other incredibly delicious recipes using beef cheeks you will also love: Beef Cheek Rendang and Beef Cheek Ragu. You could say I'm the Beef Cheek queen!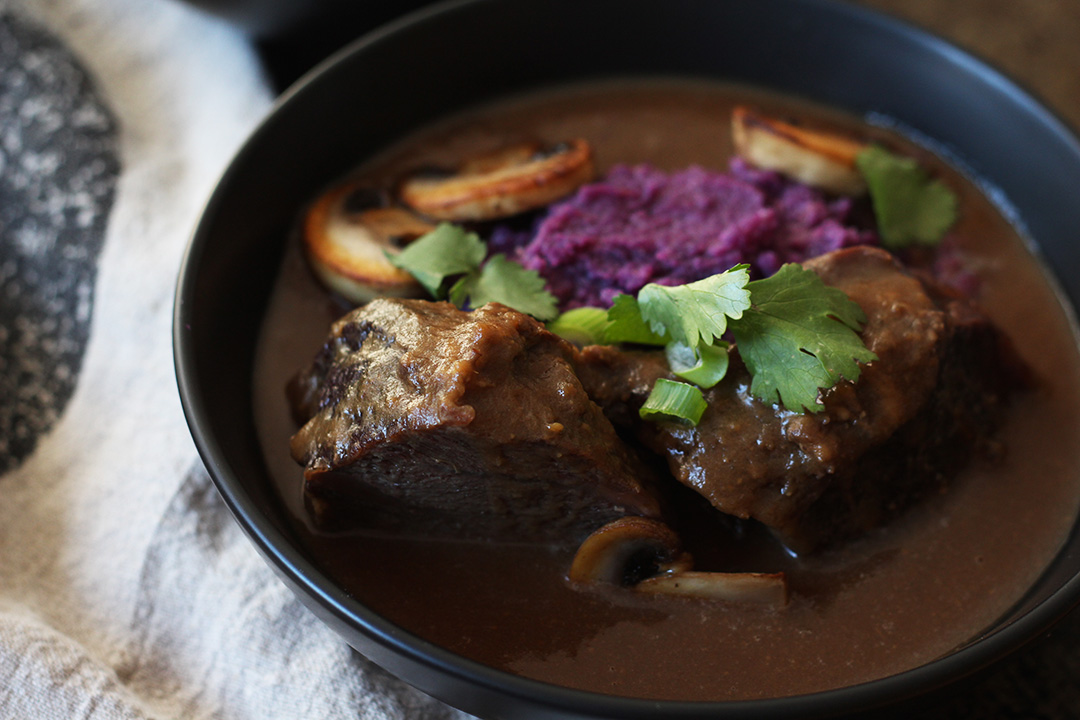 ⭐What you will love about Korean Beef Cheeks
So, with that little nutrition and sustainability lesson done, let's get to the recipe for Instant Pot Korean Beef Cheeks with Mushrooms. The recipe title is a mouthful, and the dish itself is also a delicious mouthful that you'll find hard to resist. It's full of flavour, with the zing of ginger, sweetness from the apple sauce and pear and of course, the all important savoury umami courtesy of tamari and a little fish sauce. Happily, it's easy to pull together with inexpensive ingredients.
Here's a picture of Barney the cat lusting after the beef cheeks as I was photographing this recipe. He knows what's good. Right below that is the recipe!
👩🏽‍🍳 How to cook beef cheeks
Beef cheeks are considered a tough cut of meat, and usually they take many hours to cook in an oven or a slow cooker. They're quite hard to cut in their raw state, so can be left whole. The quickest option to cook beef cheeks is using a pressure cooker/multicooker/Instant Pot. I know a lot of people might feel daunted cooking a new cut of meat, but cooking beef cheeks is really easy...you just need time! Below, I've explained the main cooking options for beef cheeks. Remember to carefully read the particular recipe you are making because there will always be slight differences.
To cook beef cheeks using an oven or slow cooker, the exact steps depend on the specific recipe you're making. You may need to first use a frypan or a skillet on the stove to brown the meat or fry off some of the ingredients. It really depends on the specific recipe and also whether you want to brown the meat or not. It can certainly add flavour but isn't always necessary - plus, it's quicker just to skip that step. For this Korean Beef Cheeks recipe, there's no need for these steps - the beef cheeks and the sauce ingredients are just added all together to the slow cooker or oven-safe dish.
Using these methods, the cooking can take anywhere from 3-8 hours, so ensure to take that time in to account. The oven is quicker than the slow cooker. Many recipes will require the sauce to be reduced afterwards, so keep that in mind too.
The best oven temperature is 160C/320F and the beef cheeks will take between 3 and 4 hours, depending on the size of the cheeks.
If using a slow cooker, I recommend using the high setting, as low just takes way too long - they should take between 6 and 8 hours depending on the size of the beef cheeks.
To cook beef cheeks in a pressure cooker/multicooker/Instant Pot, simply fry off the ingredients and/or brown the meat if that's what the recipe calls for. For some recipes, such as this Korean Beef Cheeks recipe, those steps aren't required. After that, simply add all the ingredients to the bowl and cook according to the instructions in the recipe. The beauty of this method is how quick it is compared to using the oven or slow cooker - 90 minutes plus allowing time for the machine to come to pressure is sufficient.
Beef cheeks can also be smoked, which sounds amazing to me! My blogging friend Gavin Sutherland of Another Food Blogger has a fantastic recipe for Smoked Beef Cheek Pitas which are giving me serious cooking gadget envy!
💡Suggestion for cooking this recipe in a slow cooker (crockpot) or oven
Please note: I haven't made this in a slow cooker, but I am confident this recipe can be made that way if that's the equipment you have. For the slow cooker/crockpot, I suggest adding 1 extra cup of water, cook on high for 6-8 hours (leave the cheeks whole after trimming the fat) and then reduce the sauce on the stovetop for 20 minutes (after removing the meat).
You may also want to try cooking it in the oven, but I have not tested it using the oven. The beef cheek recipes I've seen online suggest cooking with the lid on for 3-4 hours on a low temperature, such as 160C/320F. Reduce the sauce at the end on the stovetop for 20 minutes (after removing the meat). 
📋 Recipe
🌟 Did you make this recipe? Leave a ⭐️⭐️⭐️⭐️⭐️ star rating and a comment below to let us know how it turned out. Save it for later by pinning to your favourite Pinterest board and make sure to tag us on Electric Vitality's Instagram to show off your cooking!
Pressure Cooker Korean Beef Cheeks with Mushrooms
Gluten free, grain free, paleo, slow cooker option
Pressure Cooker Korean Beef Cheeks with Mushrooms is the perfect winter dish with tons of flavour packed in to the gravy. See notes for  a slow cooker (crock pot option).
Print
Pin
Rate
Ingredients
Sauce
5

cm (2 inch)

piece of ginger

6

garlic cloves

1

ripe pear

2

medium brown/yellow onions

⅔

cup

water

½

cup

tamari sauce

(or coconut aminos for strict Paleo/AIP)

½

cup

apple sauce

(sweetened or unsweetened)

1

tablespoon

fish sauce

1

tablespoon

rice vinegar

(use coconut vinegar or apple cider vinegar for strict Paleo/AIP)

½

teaspoon

cooking salt
To serve
4

sweet potatoes

(purple-flesh or white-flesh are both great)

10

white mushrooms

1

tablespoon

olive oil

Half bunch coriander

cilantro

1

green onion stalk
Instructions
Peel the garlic and ginger. Grate the ginger. Peel, core and chop the pear; peel and roughly chop the onions.

Place all the sauce ingredients in the food processor or blender and blend until smooth.

Trim the beef cheeks of as much fat as possible.

Pour the sauce mixture in to the inner bowl of the pressure cooker and then place the beef cheeks on top and submerge them a little - you want to ensure that the sauce is always in contact with the bottom of the bowl.

For an electric pressure cooker/multicooker, close the lid and seal the vent. Use the manual option to set to high pressure for 80 minutes and then set it to start.

For a stovetop pressure cooker, lock the lid in place. Over high heat, bring to high pressure. Reduce the heat just enough to maintain high pressure, and cook for 80 minutes.

While the beef cheeks are cooking, cook the sweet potato. Peel, chop and steam before mashing with some butter, ghee or oil and a little salt.

Towards the end of the cooking time, slice the mushrooms and then brown them in a pan with some oil. Slice the green onion in to thin slices, wash the coriander and pick the leaves to use as a garnish.

Once the beef cheeks have finished cooking, allow the pressure to release naturally for 10 minutes and then release any remaining pressure (for a stovetop pressure cooker, you can do this by running it under cold water. Do not do this for an electric cooker!)

Remove the beef cheeks and set aside. If necessary cut in to smaller pieces depending on how many serves you would like.

To serve, place beef cheeks in serving bowls with re-heated sweet potato. Pour the sauce around the beef cheeks and potato, place mushrooms and garnishes on top.
Notes
Equipment: food processor or blender, Instant Pot/multicooker or pressure cooker*, knife, chopping board, measuring cups and spoons, silicon spatula.
*If you want to cook this in a crockpot/slow cooker or in the oven, please read the notes in the blog post.
--------
Hello! The photos of this recipe and the content above are copyright protected.
Please do not use the photos without prior written permission from Allison Jones. If you wish to share this recipe, please provide a link back to the recipe on my website - social media sharing sites like Pinterest will do this automatically. If you make significant changes to the recipe, please rewrite the recipe in your own unique words and provide a link back here for credit. Thank you!
Hungry for more high quality recipes?
My second eBook, C'mon Gut Happy, is just what you need! Over 30 delicious plant based, gluten free recipes with evidence based ingredients to support your gut microbiome health!